Visit of educationalists from the People's Republic of China to V.O. Sukhomlynskyi State Scientific and Pedagogical Library of Ukraine
10.10.2019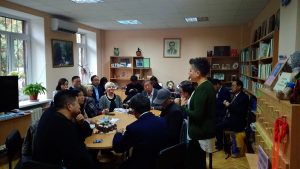 On 4 October 2019 a delegation from China visited V.O. Sukhomlynskyi SSPL of Ukraine. 14 educationalists came to Ukraine to get acquainted with the places associated with the name of the outstanding Ukrainian teacher Vasyl Oleksandrovych Sukhomlynskyi. His well-known name is respected by teachers of the People's Republic of China.
They paid a call to the library within the framework of their visit to the National Academy of Educational Sciences of Ukraine, which has been studying and popularising the teacher's oeuvre during many years. The specialists of the library make a close study of the teacher's creative, scientific and methodological heritage. In addition, sector on study of V.O. Sukhomlynskyi's activity was established in the History of Education Department in the library.
The delegation was met by L. D. Berezivska, the Director of the library, Doctor of Pedagogical Sciences, Professor, and Corresponding Member of the NAES of Ukraine. She informed the delegation about the history of and current situation in the library and presented the exhibitions of works by Vasyl Sukhomlynskyi, dedicated to the 101st anniversary of the teacher's birth. The guests also got acquainted with the museum exposition, dedicated to the 20th anniversary of the library.
The researcher L.V. Sukhomlynska told the Chinese delegation about the V.O. Sukhomlynskyi's Collection, in which most of the library books and exhibits associated with the teacher's name are concentrated. Academician O.V. Sukhomlynska revealed the content and strategies of the unique sector on study of V.O. Sukhomlynskyi's activity in Ukraine. Academician O.Ya. Savchenko, head of the All-Ukrainian Vasyl Sukhomlynskyi Association, told about the activities performed by the Association at the V.O. Sukhomlynskyi's Collection. The guests were very impressed by their stay in Ukraine.
The Chinese educationalists visited the exhibition of works (drawings, collages, and installations) prepared by the children in the kindergarten No. 418 on the theme of children's fairy tales by Vasyl Sukhomlynskyi. The children traditionally prepare such exhibitions dedicated to the teacher's birth on 28 September.
At the end of the meeting, the participants exchanged souvenirs and took pictures.
The material was prepared by L.V. Sukhomlynska,
the researcher of the History of Education Department
No listing found
Our questionnaire
Dear users!
ДНПБ України
імені В. О. Сухомлинського НАПН України прагне створити сучасний науково-освітній та культурний простір, що сприятиме якісному забезпеченню Ваших інформаційних потреб.
Please take part in the anonymous survey!
Your answers will help us to improve library and information services to users and will serve to improve the scientific and information support of education, pedagogy, psychology.
Вебінар
No meeting rooms are currently available to join.