Room-museum of Rare Books
On 27 January 2016 a room-museum of rare books was set up in V.Sukhomlynskyi State Scientific and Pedagogical Library of Ukraine, the NAES of Ukraine. It is a creati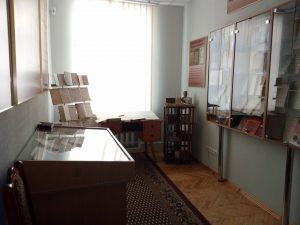 ve laboratory for carrying research, cultural, educational and exhibition activity out. Publications on education and psychology issued during 1850 – 1917 are exhibited in the room-museum of rare books. These publications are of great scientific, historical, and cultural value; and they constitute a significant source base for caring research out. According to the Resolution No. 1709 adopted by the Cabinet of Ministers of Ukraine on 19 December 2001 28,081 units of rare books were entered in the State Register of Scientific Objects constituting a national heritage of Ukraine.
A lot of documents on national and foreign education and science are studied while arranging subject displays in the room-museum of rare books. The following very old publications are exposed: Philosophy by Seneca (in Latin) (1615), The New Testament (1714) (in Latin); Kratkaia Sviashchennaia Istoria dlia Maloletnikh Detei na Shesti Yazykakh (A Brief Sacred History for Young Children in Six Languages) (1829), editions of works by outstanding writers (P. Kulish, O. Konyskyi), teachers (M. Pyrohov, K. Ushynskyi, S. Rusova, T. Lubenets), psychologists (V. Bekhterev, I. Sikorskyi, V. Vahner, H. Chelpanov), and historians (D. Bantysh-Kamenskyi, V. Vynnychenko, I. Ohiyenko, V. Shcherbyna) published during their life, documents from such collections as School Textbooks and Manuals, Foreign Language Publications Issued in the 17th – the early 20th centuries, Periodicals Published in 1807 – 1917, and Pocket Book.
No listing found
Our questionnaire
Dear users!
ДНПБ України
імені В. О. Сухомлинського НАПН України прагне створити сучасний науково-освітній та культурний простір, що сприятиме якісному забезпеченню Ваших інформаційних потреб.
Please take part in the anonymous survey!
Your answers will help us to improve library and information services to users and will serve to improve the scientific and information support of education, pedagogy, psychology.
Вебінар
No meeting rooms are currently available to join.