2016 Year of English in Ukraine Calendar of Activities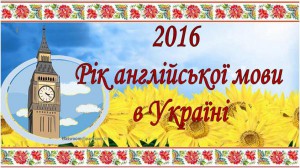 2016 was declared the Year of English in Ukraine. The library staff of V.O. Sukhomlynskyi State Scientific and Pedagogical Library of Ukraine has prepared 2016 Calendar of Activities: the main objective of them is to increase motivation and encourage Ukrainians to study English as it is the most common current tool for international communication in the process of integration of Ukraine into the European space.
No listing found
Our questionnaire
Dear users!
ДНПБ України
імені В. О. Сухомлинського НАПН України прагне створити сучасний науково-освітній та культурний простір, що сприятиме якісному забезпеченню Ваших інформаційних потреб.
Please take part in the anonymous survey!
Your answers will help us to improve library and information services to users and will serve to improve the scientific and information support of education, pedagogy, psychology.
Вебінар
No meeting rooms are currently available to join.