Scientific Service Sector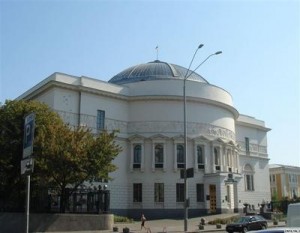 Scientific Service Sector is located at the Kyiv Teacher's House building.
The collection of the sector holds more than 117,000 items.
Annually the sector receives nearly 300 periodical titles and 1,500 items of new books, 50% of which are literature on psychological and pedagogical problems.
Sector service includes:
qualified help provided by reference bibliographer;
е-catalogue, alphabetical and systematic catalogues,systematic card file of articles published in periodicals;;
providing documents for using them in the reading room and lending;
overnight loan for weekends, holidays and cleanup days;
fee-based services (photocopying, Internet, PC);
telephone information service;
permanent book exhibitions ("New Acquisitions" and "National Textbook for a National School"), subject and personal exhibitions.
Opening Hours:

Monday – Friday: 10.00 a.m. – 7.00 p.m.
Saturday and Sunday: Closed
The last day of each month – Cleanup Day

Address

57 Volodymyrska Street, room 108
Kyiv, 01001
Ukraine

 Сontacts

Tel.: 380 (44) 234-71-59
E-mail: dnpb2@i.ua
No listing found
Our questionnaire
Dear users!
ДНПБ України
імені В. О. Сухомлинського НАПН України прагне створити сучасний науково-освітній та культурний простір, що сприятиме якісному забезпеченню Ваших інформаційних потреб.
Please take part in the anonymous survey!
Your answers will help us to improve library and information services to users and will serve to improve the scientific and information support of education, pedagogy, psychology.
Вебінар
No meeting rooms are currently available to join.